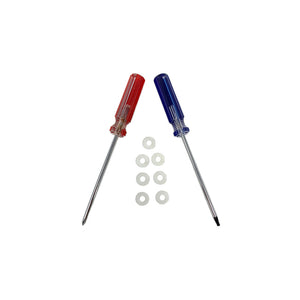 Repair kit to fix original PS4's that have the Blue Light of Death or that turn on then back off. This repair is not a guaranteed fix but we've found that it fixes about 70% of consoles that have not been opened before. Please note: This kit will not work for the 1215 model, PS4 Slim, or PS4 Pro.
This toolkit includes:
7 Plastic Washers

1 T8 Security Torx Screwdrive (5-inch screwdriver)
1 Phillips Screwdriver (5-inch screwdriver)

Please Note: Basic instructions for installing this kit are found on our PS4 On And Off DIY Fix video on our YouTube Channel.
We are currently only able to ship toolkits to addresses in the United States.
No returns on this toolkit. See our complete Return Policy here.